A Brief History of SCFD8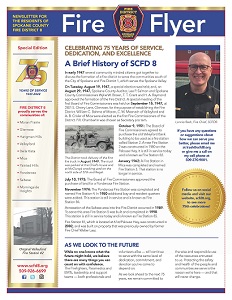 In early 1947 several community-minded citizens got together to discuss the formation of a fire district to serve the communities south of the City of Spokane and south of Fire District 1, which serves the Spokane Valley.
On Tuesday, August 19, 1947, a special election was held; and on August 29, 1947, Spokane County Auditor Lee P. Salmon and Spokane County Commissioners Wylie W. Brown, T. T. Grant, and H. A. Raymond approved the formation of the Fire District. A special meeting of the first Board of Fire Commissioners was held on September 15, 1947, at 2801 S. Cherry Lane in Glenrose for the purpose of establishing Fire District 8. William C. Bahme of Moran, C.M. Meenach of Valleyford, and A. B. Crisler of Mica were elected as the first Fire Commissioners. F.R. Chamberlin was chosen as Secretary pro tem.
Fie District 8 took delivery of its first fire truck in August of 1949. This truck was parked at the Fire Chief's house and at McClung's wrecking yard which was located on the north side of 57th and Regal.
On October 9, 1951, the Board of Fire Commissioners agreed to purchase the old Valleyford Bank building to use as Fire Station 2.  In 1980 a new building was built on the Palouse Hwy to replace that station and is still in service today as Fire Station 82.
In January of 1962 a fire station in Mica was completed and named Fire Station 3; that station is no longer in service.
On July 10, 1973, the Board of Fire Commissioners approved the purchase of land to build a fire station in the Ponderosa neighborhood. In November of 1974 that station was complete and named Fire Station 4. Additional bay and resident quarters were added to the station in 1980. It is still in service today and is currently known as Fire Station 84.
In 1989 the Saltese area was annexed into Fire District 8; and in 1990, Fire Station 5 was built to serve that area. That station is still in service today and is known as Fire Station 85.
Fire Station 81, which is located at 61st and the Palouse Hwy, was constructed in 2002 on property that was once owned by former Fire Chief Walter Lasz.
Read more in the 75th Anniversary Special Edition of the Fire 8 Flyer.