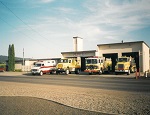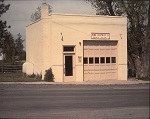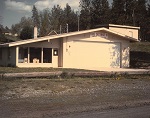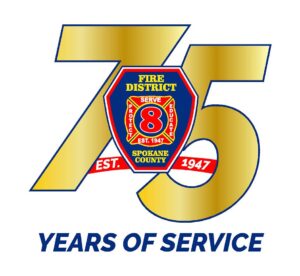 In early 1947, several community-minded citizens came together to discuss the formation of a fire district to serve citizens living south of the City of Spokane and south of the Spokane Valley. A special election was held and more than three-fifths of the votes cast were in favor of the formation of Fire Protection District No. 8. On August 29, 1947, Spokane County Fire District 8 was established by a resolution adopted by Spokane County Commissioners. The District's first fire commissioners were William C. Bahme, of Moran, C.M. Meenach, of Valleyford, and A. B. Crisler, of Mica.
In 1949, Spokane County Fire District 8 purchased its first truck, a 1949 Dodge Power Wagon, and appointed its first Fire Chief, Corwin McClung. At that time, the Chief's residence also served as the District's temporary fire station.
The District's first official fire station was built at 2914 E. 57th in 1951. By then the volunteer firefighter force had grown to 16 members. Also in 1951, the commissioners approved the purchase of the old bank in Valleyford to serve as the District's second fire station, Station 2.
In 1960, residents in Mica proposed that District 8 build a fire station in their community. Construction of Station 3 was completed in 1962 and it remained an active station until 1980.
Landowners in the Ponderosa and Painted Hills areas presented a petition to create a LID to fund a fire station near their communities. In 1974, Station 4 was constructed on Bates Road in the Ponderosa neighborhood.
A new fire station was built in Valleyford on the Palouse Highway in 1980. That station, Station 2, was also the dispatch center for south Spokane County and still serves as the District's headquarters today.
As the population grew, the District annexed a portion of the Saltese area and constructed Station 5 on Linke Road in 1990.
In the mid 1990's all fire districts in Spokane County began using a new numbering system in preparation to consolidate dispatch centers. Fire District 8 began numbering its stations as 81, 82, 84, and 85.
A new Station 81 was constructed in 2002 at 6117 S. Palouse Highway to replace the station at 57th and Regal.
Today, Spokane County Fire District 8 serves a community of 23,917 residents in approximately 110 square miles of commercial, residential and agricultural areas south of the cities of Spokane and Spokane Valley.
A combination of career and volunteer personnel respond to calls from the Districts four stations in the Moran (Station 81), Valleyford (Station 82), Ponderosa (Station 84) and Saltese (Station 85) areas. SCFD8 members responded to 4248 requests for services in 2022, with emergency medical responses (EMS) accounting for over 80% of those incidents.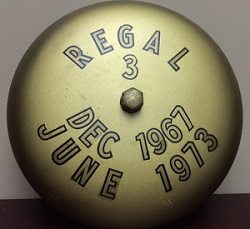 Early Fire Dispatch
Years ago firefighters were alerted to an alarm using a system much different than the digital system used today.  Prior to 1967, a call-taker for the Fire District would answer the fire telephone and then immediately begin contacting volunteer firefighters by telephone. The first firefighter to arrive at the station would start the loud air-raid siren to alert other firefighters to the call.
After the District received its first radio equipment, a dispatcher used the Regal 3 bell to alert firefighters. The dispatcher would open the microphone on the radio and ring the bell with a brass hammer. The number of rings signified the station that should respond and type of call they were responding to.