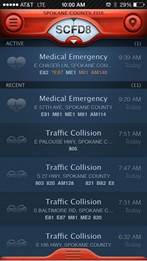 Did you know your smartphone can help you save a life? PulsePoint, a free smartphone App in Spokane County, enables subscribers who are CPR trained to be alerted to a sudden cardiac arrest at the same time emergency responders are notified. Registered users will be notified when a sudden cardiac arrest has occurred in a public place within their vicinity. PulsePoint will give the citizen responder mapping directions, notify them of any automatic external defibrillators (AEDs) in the area, and provide radio traffic of the emergency responders. Early CPR is the key if a sudden cardiac arrest victim is to survive. When a person goes into sudden cardiac arrest, their heart, brain, and other vital organs no longer receive oxygen. Researchers have found that without early CPR within the first 3 to 5 minutes, a sudden cardiac arrest victim's chances of survival are dramatically reduced. The free PulsePoint app can be found in the Apple App Store or on Google Play.
Learn how you can help save a life with this message from SCFD8 Fire Chief Tony Nielsen and Spokane County Medical Program Director, Dr. James Nania: PulsePoint video
Find the app on the Apple App Store and Google Play.
Install the app.
Choose agency and alert options.
Learn about other features.
You only need to be willing to do "Hands-Only" CPR. According to the American Heart Association, Hands-Only CPR has been shown to be as effective as conventional CPR in the first minutes of sudden cardiac arrest. Subscribers can also view active fire and emergency medical incidents and monitor emergency radio traffic. http://pulsepoint.org/